Hair salon – a place offering services related to hair care and styling. In a hair salon, specialists called hairdressers work, who possess knowledge and skills in the field of hair cutting, coloring, straightening, and styling. Customers can take advantage of various services such as men's and women's haircuts, coloring, balayage, highlights, keratin straightening, updos, and many others. Hair salons can be run by a single hairdresser or by a team of specialists. They can have different sizes and offers, from small salons with a few stations to large salons with several hairdressers and offering more advanced hair care and cosmetic services. On the other hand, a SWOT analysis of a hair salon is a tool for identifying strengths, weaknesses, opportunities, and threats associated with running a business in the hairdressing industry.

Are you preparing a SWOT analysis for a hair salon? This article provides a complete example of a SWOT analysis, including a description of the analyzed company, an evaluation of factors, an assessment for each strategy option, and a description of further action strategies. You can check the process of creating a SWOT analysis and the structure of the document for free on the JakNapisac.com website in the article SWOT analysis. The following SWOT analysis example was created according to the guidelines provided there.
Note! Commission the writing of a SWOT or SWOT TOWS example analysis for any project. See here.
Read the SWOT analysis prepared for a hair salon. A SWOT analysis is not just a table divided into four parts in which random factors are often entered. Instead, it is a tool that allows you to choose a strategy for your company based on its real strengths, weaknesses, opportunities, and threats present in its environment.
Complete text: SWOT analysis of "Pefredo" hair salon
Cover page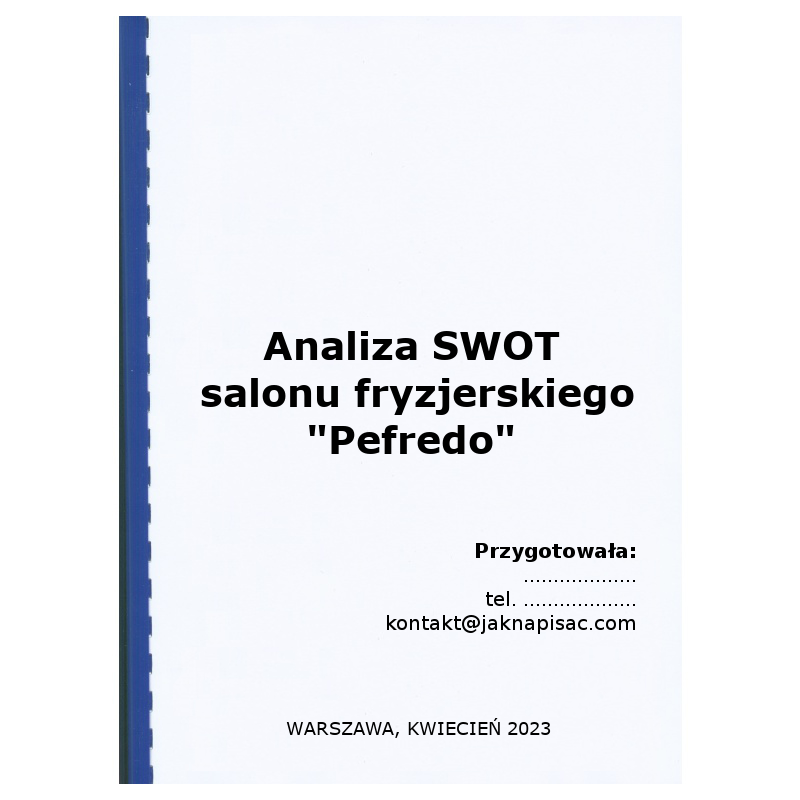 Table of Contents
Introduction
1. Characterization of the business
2. Mission and goals of the company
2.1. Company mission
2.2. Company goals
2.3. Company strategy
3. Identification and description of factors
3.1. List of factors
3.2. Evaluation
3.3. Strengths
3.4. Weaknesses
3.5. Opportunities
3.6. Threats
4. Strategic position evaluation
5. Conclusion and strategy selection
This SWOT analysis was prepared by Anna Paterska due to the need to modify the development strategy for the "Pefredo" hair salon, which has been operating on the market for a year. The research concept used was to determine the company's mission and goals and then to establish a strategy for further action based on SWOT analysis. The analysis covered the current situation of the company and a forecast for the future.
The "Pefredo" hair salon provides its customers with male and female hairdressing services. The premises are located in the city center, have qualified staff, and a constantly growing base of regular customers. We believe that we are already ready to use these advantages. In addition, new circumstances have appeared around the company, which require us to analyze our previous achievements and indicate new directions and means of expansion. We need a new, coherent strategic vision to effectively compete with others and build a strong brand.
The company was founded a year ago, taking advantage of the fact that many hair salons had closed due to the pandemic. It has been pursuing a market penetration strategy so far, consisting of gaining the widest possible recognition among customers through low prices for services provided. However, we see the need to change this strategy in the face of rising costs, the emergence of new competitors, and unsatisfactory financial results. We want to include the opportunity for growth in the form of increasing interest in home visits and an increasingly large group of young customers in our further development strategy.
For the analysis, a hypothetical, ideal company was adopted as a reference point, and a comparative analysis was carried out, indicating the strengths and weaknesses of the conducted activity and identifying opportunities and threats arising in the industry. The results of the SWOT analysis will be used in the company's business plan, which we will write to obtain financing for the development of the business. However, first and foremost, they will enable the owner to make strategic decisions regarding the company's future.
The SWOT analysis concerns a small hairdressing salon "Pefredo", employing besides the owner, two other employees. The hairdressing salon provides the following services to its clients: men's and women's hairdressing.
This is a fragment of text. You can access the full version on the website przyklady.jaknapisac.com.

Polecany poradnik - zawiera wzory i przykłady
Zobacz spis treści (PDF)
Analiza SWOT TOWS. Wybór strategii (EBOOK)
---